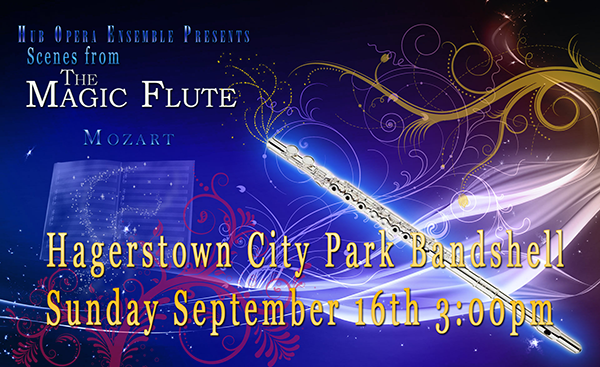 Click here for the Facebook Event
Free Preview of Mozart's The Magic Flute 3:00PM Sunday, September 16th Hagerstown City Park Bandshell! The Hub Opera Ensemble will be preforming scenes in full costume from their upcoming Opera!
Brought to you by Historic City Park Neighborhood's 1st & The Hub Opera Ensemble.
Please join us for our First Arts in the Park Event! If this event is successful we plan to do several more next year! So if you can't make it, please share this with your friends!
Also be sure to check out the fundraiser for the HCC elementary performance ! http://www.kickstarter.com/projects/1628917568/childrens-matinee-performance-of-mozarts-the-magic
The Arts in the Park was formed by the Historic City Park Neighborhood's 1st Group to provide family friendly entertainment as well as arts & culture to guests of city park at no cost! Please contact Heather Holman if you are interested in joining this committee! heather@historiccitypark.com

Download Flier