Historic City Park Neighborhoods First
The neighborhood surrounding City Park is one of the oldest in Maryland and features houses from the 1750s to present day. The neighborhood has formed a Neighborhoods First Group in 2009 and is currently the largest in the City of Hagerstown with over 2,500 residents. The neighbors set out to make their neighborhood safer, more beautiful, and more family friendly for residents.
The neighborhood group has accomplished many of their original goals such as:
Installation of traffic calming on Summit
Radar signs on Summit
Improved Alley lighting
Decorative street signs on Summit ave
Decorative Columns on Virginia ave
Tree plantings on Reynolds & Summit aves
3 Safe crossings for Virginia ave
City Park Welcome Sign
Lake dredge for Sail Boats & Fountain
Decorative Up Lighting for the Lake
Garden in front of Bandshell
A new playground for the park
A drive thru holiday display
Historic City Park lobbied for enhanced decorative lighting for the park for over 10 years including donating some of their own funding, providing the drawings, and reaching out to state legislators to make it happen. A Goal which was completed in 2019, with the city enhancing the electric to the park and expanding the power allowing another goal of the group's to be complete – a holiday drive-thru light show which the group donates to every year to make more special.
In addition to their improvement projects, the neighborhood also hosts events such as:
Community Block Parties
City Park Tree Lighting
Community Cleanups
Santa on a Fire Truck
Operas in the Park
Movies in the Park
Model Boat Sailing in the Park
Cultural Festivals & Events in the Park
Ghost Tours
Live in the City Park Neighborhood?
Want to help make a difference in our neighborhood and make it safer and family orientated while getting to know your neighbors? Come to our next meeting!
Historic City Park Neighborhoods First in the News
https://www.localdvm.com/news/maryland/volunteers-plant-flowers-to-beautify-hagerstown-city-park/ View Video by clicking link above Volunteers planted hundreds of flowers at Hagerstown City Park on Saturday. A volunteer group, Historic City Park and Neighborhood's...
The group has fundraised and installed 10 decorative street signs in the neighborhood and plans to add more in the coming years! Laurel Kahn and Heather Holman cut the ribbon on the first sign.
Ribbon Cutting with Mayor Gysbert & Councilman Munson. Also our fall planters in the park!
1. Peak hour and daily volumes have stayed about the same 2. The average has gone down 3 MPH since traffic calming 3. The number of vehicles with excessive speeding over 35 MPH dropped significantly...
New Crosswalks on Virginia, Howard, S Walnut and Park Circle! A special thanks to Rodney Tissue and Tim Young for being the hardest working men in city hall! We are running out of goals! Time to make some more!
Goal Reached! 75% Community Support for Traffic Calming devices! It took a year but we were able to collect the 75% signatures needed to take the Summit Ave speeding issues to Mayor & Council!
We asked for it and now the city has finally answered us with a safe crossing for pedestrians, two new cross walks at park circle! The crosswalks will feature a resting point half way between the crossing to look again for cars. Construction shown below! [gallery...
We asked for more lighting and the city made it happen, installing 3 new lights around park circle! Hopefully more lights to come!
The City finally listened to us about this dangerous intersection and gave us a traffic calming device at the intersection of Reynolds & Summit! Hopefully this will slow people down and reduce accidents. They also gave us a cross walk! The lines are painted for...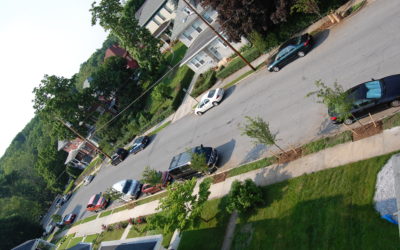 We were able to take advantage of the state grant for tree canopy and plant 12 trees on Reynolds Avenue! Special Thanks to Tim Young for providing us with copies of the tree applications!  
Friday is the last day! Today is the last day of our first spring fundraiser! So far we've raised $527  for our group with flower orders and donations! It's not too late if you want to help us reach our goal by ordering something today! Click here to go directly to...
The first Neighborhoods 1st Reynolds Avenue block party and yard sale got off to a slow, drizzly start Sunday, but as the sunshine began to show up mid-afternoon, so did the people. "We're trying to keep our...